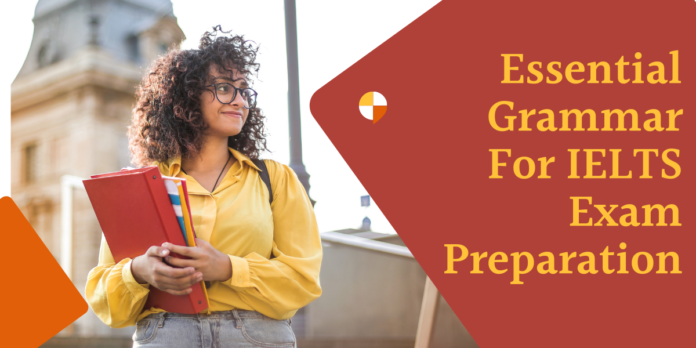 There are many students who are preparing for the IELTS Exam but are not satisfied with their performance. One of the major reasons behind this is the lack of essential grammar knowledge. There are many individual teachers, institutions providing IELTS training. Even many IELTS franchises are also working in this field and they have many students enrolled in multiple batches. Therefore, sometimes students do not get proper opportunity to learn about the basic grammar. As a result, their performance gets stuck between just 5.0 to 6.0 bands. 
》
Grammar is Key to Success in IELTS Exam
As we all know, grammar plays a very vital role in every language. It doesn't matter which language you want to learn, you will have to understand the basic grammar to learn a language. As, IELTS is an English test so you should have the appropriate English language skills to get your desired bands in this exam. Although, grammar is a very vast area and there are numerous rules, types, definitions. It may take years to learn and master the complete grammatical aspects which is not really necessary for the IELTS candidates. So, here we will discuss the essential grammar for IELTS.
》Sentence Formation
This is the first step to enhance your grammatical knowledge. To learn about sentence formation, you have to know about the types of sentences. There are basically three types of sentences: Affirmative(Simple), Negative(Not) and Interrogative(Question). You should have the complete knowledge about how to form all the given types of sentences before heading towards further grammar.
Are you planning to invest some money? I would suggest you go for educational franchise opportunities. Any education franchise will get you return in no time. You can also go for the IELTS coaching center franchise. 
》Tenses
We all have studied about tenses in our school and tenses are similar in all languages. These are 3: Present, Past and Future. But, there are many of the sub-types under each of the tenses like Indefinite, Continuous, Perfect & Perfect continuous. So, you have to read and understand all these rules especially related to the past and present tenses because these 2 types of tenses are used most of the time. But sometimes students get confused in tenses and lose their marks.
》Verb-Forms
In English, there are three forms of verbs. So, if you have studied about tenses but do not know about the form of verbs then your knowledge related to the tenses will be worthless because both are connected. There are thousands of verbs and their forms but you don't need to read and memorize them all. You can make a list of some of the most commonly used irregular verbs and then read about their second and third forms. Irregular verbs means you cannot use 'ed' to change their forms. 
》Change the voice (Active/Passive)
Sometimes you have to change the sentence formation to bring diversity in your writing or speaking test. So, the knowledge about voice is really helpful in this situation. Active voice is basically your sentence which you have written as per the rules of tenses and when you change them into the passive voice then the meaning remains almost the same but the sentence formation gets changed. Passive form is mostly used in writing IELTS Academic Task-I.
》Track Frequent Mistakes
The key to success is keeping track of frequent mistakes. All the students are suggested to keep a note of their frequent mistakes because this will help them to understand their weakness. Working on their weak part of grammar will help students to score higher marks. This will also help them in speaking, listening and reading modules of IELTS. 
》Conclusion
Grammar is the key to ace the IELTS exam. Preparing grammar thoroughly will help in scoring 7+ bands in one go. Students feel confident once they are done with improvement in their grammar. Most of the IELTS Institute in Jalandhar offer grammar classes for the first week. Only then they move on to the next modules of IELTS exams. Hence, I would recommend that one should start focusing on their grammar before starting preparing for the IELTS exam.