To make money from home has always been quite an appealing thought to a lot of people. Just a few years ago, many thought that working from home could be just a side gig or something mostly useful for students or stay-at-home moms; but all that changed when the Covid attacked.
With the threat of the virus, the majority of workers had to move out of the office and do all the work remotely. And as of 2020, about 70% of people are currently working from home. So if there's one thing that the Pandemic showed us, it's that it's entirely possible to make money easily at home. But how? In this article, we present to you the 5 best and most common ways to make money at home, whether you want it to be a side gig or a full-day work. So let's see!
Take on the Virtual Assistant Job
If you have superb social and communication skills and want to make money at home online, then the job of a virtual assistant could be a wonderful option for you. Now, what this work entails, is that as a personal assistant, you will be offering remote administrative and managing services to your clients. To be specific, virtual assistants make calls, answer emails and comments on social media, arrange meetings and travels, and many more. Pretty much everything a PA does, with the difference that you make money online, and can do everything from the comfort of your apartment.
You Сan Make Money with Freelance Online Work
You may not even realize, but there are so many freelance work options to choose from, depending on your talents. These platforms offer you projects, based on your skills, and it's all up to you which one you want to go with. Some of the most popular and best sites that help you make money fast are Upwork, Freelancer.com, Guru, and LinkedIn.
And if you're looking for niche platforms, you can consider some of these options:
For writers, sites like Blogging Pro, Due, Freelance Writing, PubLoft, and Pro Blogger would be good places to visit.
Developers can make money easily with the help of platforms like Codeable, Gun.io, or Storetasker.
If you are a designer, consider working with 99designs, Dribbble, Behance, or Fiverr.
Want to take on the Virtual Assistant job we mentioned earlier? Then consider platforms like Fancy Hands, Onlinejobs.ph, or Magic.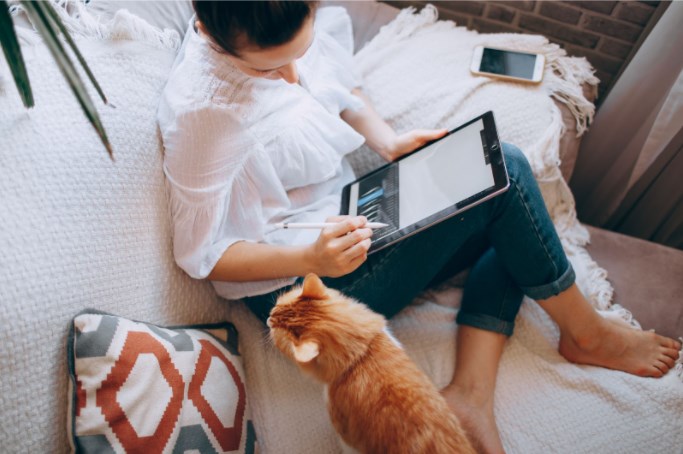 Sell Your Stuff
Selling something, whether it's a service, items you don't need is the best way to make money fast. There are many places where you can actually sell something, the most popular options are, of course, Amazon and eBay. But there are also many other great platforms – Shopify, Handshake, Etsy, Bonanza the list goes on. And the great thing is that with this method, you can even make money today if you have in-demand items, such as Skincare products, Health and Fitness items, or Electronics and related goods, such as phone cases.
But we should also mention that selling goods is not the only thing that can help you make money. You can also sell your talents, skills, and knowledge. If you, for instance, know how to play guitar, can offer tips on the best way to play games like the Book of Ra, or know languages, you can make money by selling your books, or online courses platforms like Skillshare or Udemy. You can also sell your photography on sites like Shutterstock, Getty Images, Adobe Stock, Alamy, and many more.
Make Money on YouTube
Youtube offers a wonderful opportunity to make money online, by becoming a content creator. While this is not as easy as it may seem, there is a real chance to get some cash out of your videos.
You can make money on Youtube by joining the Youtube Partner Program. To do so, you must be in a good relationship with the platform (meaning having no ho strikes and reports), live in an area where the Youtube Partner Program is available, and have over 1000 subscribers and more than 4,000 watch hours within the last year.
Have a Blog and Become an Affiliate
If Youtube is not your thing,  then you can make money by creating your blog (or even social media page), and then joining an Affiliate Program, once you have enough subscribers/readers/followers. The way it works is that as an affiliate you will promote and put links to the products of your sponsor, and if people click the link and make a purchase, you will get a percentage of that money. Similar to the Youtube method, this is not exactly the way to make money fast, but the payoff can be pretty huge if you're lucky and skilled enough.
There are many platforms that offer Affiliate programs: Amazon Associates, ShareASale, eBay Partner Network, Elementor, and many more.
Conclusion
As you can see, there are so many amazing opportunities to make money easy online and from the comfort of your apartment. Truth be told, these methods are wonderful for having an additional income, however, we would strongly advise you to first try these out as side gigs, not a full-time job. Take some time and see how things are going, so that you would not end up in a difficult situation if your freelance job will not be very profitable.
So we wish you all the best, and if you know some other great ideas on how to make money from home, feel free to share them in the comments below!